Advances in Total Knee Replacement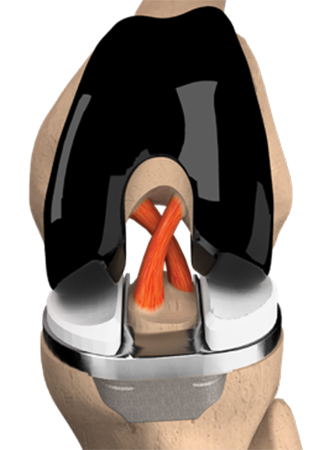 Recently, there has been a paradigm shift in the design of total knee replacements. This new design allows surgeons to preserve the important central ligaments of the knee called the anterior and posterior cruciate ligaments. This design should allow a knee replacement to move, respond, and feel more like a normal knee. With current knee designs, it is very common for patients—even those that have a successful outcome with knee replacement—to have a knee that feels mechanical and unnatural. In addition, only 75% of patients who have their knees replaced report being extremely satisfied with the outcome of their surgery. By comparison, patients with hip replacements report extreme satisfaction with their replacement well above 90% of the time. For many years, this discrepancy has been an area of intense interest to both surgeons and the engineers who design implants. Interestingly, partial knee replacements or "uni knees" that replace only one side of the knee and leave the remaining native anatomy intact, produce satisfaction ratings in patients much nearer that of hip replacement patients. While the explanation for that is not clearly understood, the most reasonable and accepted explanation for the difference in satisfaction between total knee replacement and partial replacement is that with a partial or uni replacement we preserve much of the knees natural anatomy, particularly the ACL and PCL ligaments. Those ligaments help to govern the complex motion and mechanics that make up the complex function of your normal knee. Many of us believe that the ability to save those ligaments in the setting of a total knee replacement will dramatically raise the levels of satisfaction and feeling of more normal function for patients undergoing knee replacement surgery. This ability to perform total knee replacement surgery and preserve the key central ligaments of the knee, the ACL and PCL, offers a promising answer to knee arthritis for today's patients that suffer from knee arthritis.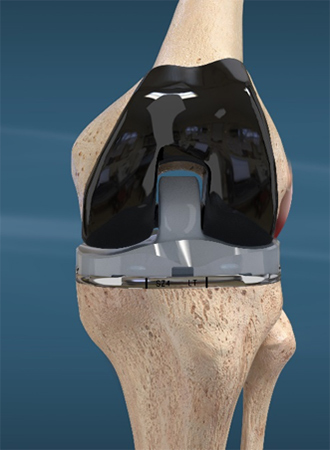 This new design called the Journey XR knee from Smith and Nephew Orthopedics, has been released to a handful surgeons in the United States during what is called the early launch of the product. A few years ago, I was selected to be one of those surgeons. We have been implanting this knee for some time now and early results point to great success with the new design. Of course, preservation of these ligaments depends on these ligaments being healthy. Some patients with advanced knee arthritis that come to need knee replacement have either had an injury to these ligaments early in life—an "ACL tear"—or have a ligament that has degraded severely over the life span of their natural knee. In these cases, we use standard knee replacement strategies and implants. In some cases, I cannot be sure if I will be able to preserve the ligament until I am actually in the surgery and am able to actually inspect the ligament.
Patient experience to this point around the country to this design has been excellent. Recovery for most has been faster than for standard knee replacement designs—understanding that recovery from standard knee replacement is generally long and arduous. It is a pleasure and special opportunity for me to be involved in this project and be able to offer this exciting shift in knee replacement design to my patients.

Outpatient surgery is another new development in total knee replacement. The procedure is performed in an ambulatory surgical center, and patients are able to return home the same day. Learn more about the benefits of outpatient joint replacement.